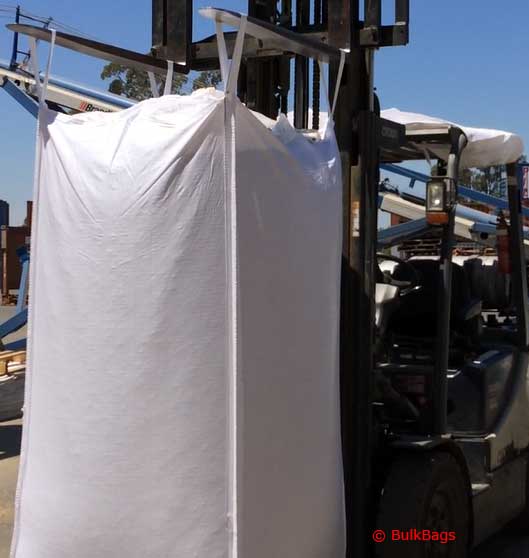 We supply Bulk Bags / FIBCs
Lift simply, lift safely - up to 2.0 tonnes in a bulk bag!
You can lift, store and transport almost all flowable products in our FIBC bulk bags, such as grains, fertiliser, solid chemicals, sands and granules of plastic. We supply high quality bulk bags which are strong, robust and reliable. Our bulk bags are tested and certified international standard ISO 21898. All bags are made of UV treated flexible woven polypropylene fabric.
The bags come with integrated super strong 4-loops, 2-loops, and single loop. You can lift up to 2.0 tonne products by it's loops using forklift, crane, and hiab. We have various types of single trip and multiple trip FIBCs in our stock. We also design and make FIBCs to meet customers requirements.
FIBC (Flexible Intermediate Bulk Container) is also known as bulk bag, bulka bag, jumbo bag or bulker bag.
We supply bulk bags to all cities and regional areas in Australia - Sydney, Melbourne, Brisbane, Perth, Adelaide, Darwin, Cairns, Hobart. Not only do we supply them to Australia, but also to New Zealand, South Africa, Pacific Islands (Papua New Guinea, Fiji, and Solomon Islands). We are capable to supply across the world.
Industries Where We Supply Bulk Bags
Agriculture
To store or transport grains, seeds, fertiliser and stockfeeds, we have stock of various types of bulk bags including top and bottom spouts, duffle top, laminated, and inner liner for waterproofing and moisture barrier.
Mining
Bulk bags are used to transporting and exporting hazardous and dangerous goods. Laminated and liner FIBCs for non-dangerous goods are available in stock to fill finest particles of mineral. It also ensures moisture barrier.
Construction
Our FIBCs are widely used to transport, lift and store materials such as sand, soil, cement, concrete mix, concrete dust, pebbles, and rocks. It's easy to deliver your products in bulk bags. Super strong 4-loops are suitable for helicopter and crane lifting.
Transport
Transporting loaded bulk bags is easy on pallets or by lifting it from the reinforced loops. The filled bulk bags can be transported on trailer or truck. You can export your products in bulk bags by loading them in the container. FIBCs have made transporting bulk materials easy.
Aggregate
Our 2,000 Kgs bulk bag DFU120X is appropriate to transport or lift aggregates. It has 4 strong loops reinforced to be lifted by forklift, hiab or crane. The bags have duffle / skirting cover with a tie rope attached to it.
Wood
Our duffle top bulk bags are used for firewood and sandalwood. They can hold upto 1,500 Kgs. We have various sizes. The most common size is 90 x 90 x 100 cm which is suitable for container load in double stack.
Landscaping
1.0 tonne and 1.5 tonnes bags are commonly used for landscaping supply (volume is 1.0 m3) including soil and sand. It can be also used for organic manures, mulch etc. With duffle top to cover, you can use this bag for contaminated soil.
Demolition
Our 1.0 tonne and 1.5 tonnes builder bags are widely used by demolition companies. They are open top flat bottom. Size from 0.7 m3 to 1.0 m3. These bags are also used as bin bags for rubbish removal. We customise according to customer's need.